Stellpflug/Heppe
---
FATHER
Herman STELLPFLUG
b : 18 November 1823 in Manrode, Bühne, Westfalen, Deutschland
c : 20 November 1823 in Manrode, Bühne, Westfalen, Deutschland
d : 11 July 1873 in Kewaskum, Washington, Wisconsin, USA
i : in St. Michael's Cemetery, Kewaskum, Washington, Wisconsin, USA

MOTHER
Elizabeth HEPPE
b : 8 September 1824 in Hanover, Westfalen, Deutschland
d : 12 June 1906 in Kewaskum, Washington, Wisconsin, USA
i : June 1906 in St. Michael's Cemetery, Kewaskum, Washington, Wisconsin, USA

MARRIAGE
1847 in West Bend, Washington, Wisconsin, USA
---
CHILDREN
Mary STELLPFLUG
b : 16 February 1849 in West Bend, Washington, Wisconsin, USA
d : 17 December 1912 in Chicago, Cook, Illinois, USA


Mathilda STELLPFLUG
b : 11 January 1852 in West Bend, Washington, Wisconsin, USA
d : 20 March 1926 in Chicago, Cook, Illinois, USA


Anna Rose STELLPFLUG
b : 14 March 1855 in West Bend, Washington, Wisconsin, USA
d : 11 February 1943 in Chicago, Cook, Illinois, USA


John STELLPFLUG
b : about 1857 in West Bend, Washington, Wisconsin, USA
d : 1878


Franz Joseph STELLPFLUG
b : 21 March 1859 in West Bend, Washington, Wisconsin, USA
d : 21 July 1934 in St. Michael, Washington, Wisconsin, USA
i : 1934 in Washington County, Wisconsin, USA


Augusta Mary STELLPFLUG
b : 10 August 1861 in West Bend, Washington, Wisconsin, USA
d : 2 June 1948 in Chicago, Cook, Illinois, USA


Peter STELLPFLUG
b : 29 September 1864 in St. Michael, Washington, Wisconsin, USA
d : 16 April 1947 in Milwaukee, Milwaukee, Wisconsin, USA


Maria STELLPFLUG
b : 21 October 1868 in St. Michael, Washington, Wisconsin, USA
d : 27 October 1952 in Chicago, Cook, Illinois, USA

---
NOTES
Herman Stellpflug arrived in New York in July 1845 and became a naturalized citizen on 25 April 1855 in West Bend, Wisconsin. He was killed in the family barn when it was knocked down in a violent summer storm.

Elizabeth Heppe arrived in the United States in 1844 accompanied by her brother Franz Heppe who was born on 8 January 1820 in Germany and died 2 November 1875 in Slinger, Wisconsin.

Their son Franz Stellpflug then inherited the family farm upon Herman's death. Another son, John Stellpflug, was engaged to be married to Ella McLaughlin but he died from tuberculosis before the marriage could take place. A number of Herman and Elizabeth Heppe Stellpflug's daughters moved to Chicago as young women to seek employment as domestics and subsequently settled, married, had children, and eventually died there.

John Stellpflug was engaged to be married to Ella McLaughlin but died of tuberculosis before the marriage took place.
---
SOURCES
---
[Meet the Family!] [Surname List] [Family Group Records]
---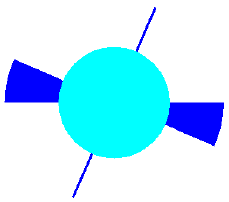 Copyright © 1995-2003 by David Harper and Lynne Marie Stockman
All Rights Reserved
Designed and maintained by Obliquity
Last modified on 1 January 2003
http://www.obliquity.com/family/records/stehep01.html